Week 3 of the Life Preservers Scrapbook Club's "Cruise Around the World in 8 Layouts" took us to Greece and a clip of "My Big Fat Greek Wedding". So this week's assignment was to scrap our favorite movie, any way we wanted to...wow, this was going to be a challenge for me!
Partly because I have so many movies that I love and partly because I needed to figure out how to convey that movie on a layout. I finally picked my all time favorite movie, "Harold and Maude" which came out in 1971. There is a scene in the movie where Harold and Maude are sitting in a field of daisies and Maude talks about how our differences are to be celebrated. The movie is about loving freely and not being afraid to be hurt or lose something, whether material or emotional. Once I thought of this scene, I instantly got a picture in my head of the layout that I wanted to do: a layout covered in daisies. I also thought of a picture from our wedding that the photographer got during our reception. We weren't posed, we were just goofing off, singing and dancing and I felt that fit the movie theme and my layout. I didn't think I would ever get finished by the deadline on Sunday, but here it is!
*drumroll*
I of course made the flowers and attached them with brads in the middle. I used different pieces of white and yellow scrap paper to make them. I "stickled" random flower centers and added a ribbon border.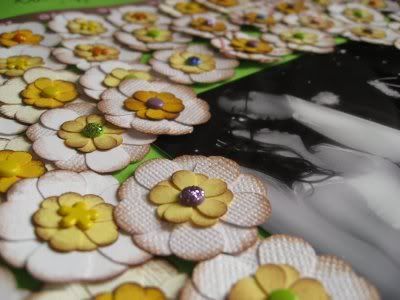 Cat Stevens did the entire soundtrack for the movie and the journaling around the edge are lyrics from one of those songs. It says, "If you want to sing out, sing out! And if you want to be free, be free! Cause there's a million things to be, you know that there are..."
I enjoyed making this layout. The assignment really made me think outside of the box...
Keep on rolling,