So after staying up late last night (and paying for this morning when Toot decided to party at 5:00) and finishing up my sign in tag this morning, I was finally ready to mail my album to the first lucky LPS member on the list. Ironically, I struggled making a layout for my own album! I'm hoping the other ladies in the circle find my theme easier to do than I did, sheesh!
Anyhoo, I decided to do an 8x8 size album and ended up with a 2 page layout that I am really proud of. The picture is small but hopefully you'll get the idea. On the right side, I used an old picture of me and on the left is one of my bridal pictures (I picked it because I was looking over the same shoulder as in the younger picture).
I really wanted to use some of my precious precious BG Urban Prairie stash so I really let that dictate how my pages ended up.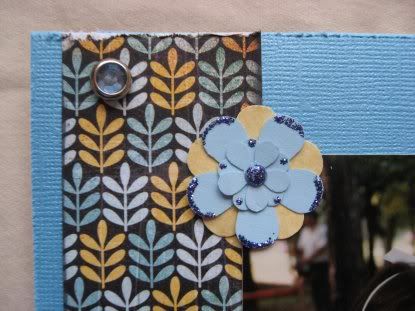 I added a flower I made a while back and distressed the edges of the paper with scissors. I put a blue rhinestone brad in each of the outside corners.
I naturally highlighted everything I could with Stickles. :P

By the way, my father-in-law will be staying with us for a few days so I won't be on and visiting with you all as much as I try to every day so NO showing fabulous creations and sharing fun stories until I get back! Please keep your blogs as boring as possible until my return (I hate missing entries!) LOL