Another reminder before we begin: the Cricut giveaway is still going on at
Life, One Layout at a Time
. The 1,000th comment left will win! We're up to 367 comments and you can leave up to 5 a day. What a are you waiting for??? Click
here
. Make sure to tell Danielle you heard it from me!
Yesterday was my first experience in class at my local scrapbook store. I took a beginner's card making class and it was fun! The teacher (who was actually the store owner I think) emphasized using scraps to make cards which I thought was neat. I love using my scraps and always try to use everything up so Chris won't freak out when I say, "Oh honey, I need more supplies! Muwahahahahahahaha
Here's what I made: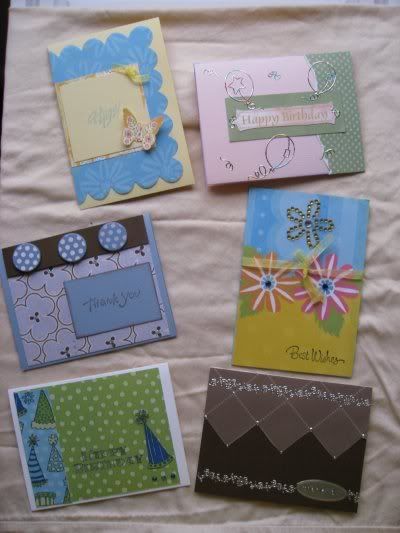 Not too shabby, eh? I have to admit that the class was very beginners but it was worth it just to be around other people that like to scrap and create like me. I decided to sign up for 3 more classes while I was there: another card making class, one layout class and two album classes. Fun fun fun!

About a week ago I think, I saw this and was instantly inspired!
This project made by Danielle gave me the idea for this layout. I take a load of pictures of Toot and a lot of those pictures tend to be progressive shots that look similar. I like to use a lot of them on one layout. With all of my pictures of Toot, I thought: flowers! It gave me an idea for a layout that I've been thinking about for a while now. A lot of times, a layout looks so much better in my head than what I end up with but this time I'm very happy with my result: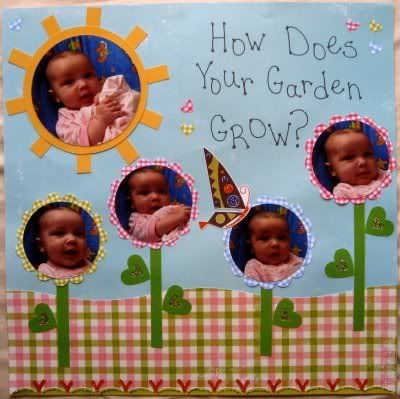 I love the way this turned out! *insert back pat here* I used my EK double heart punch to create the "flower petals" behind the pictures and for the leaves on the stems. I've been really drawn to gingham lately and I immediately reached for it when making the hills and flowers. I had one picture that was bigger than the rest and used that one to make the sun. The stems, leaves and sun were all made from glitter cardstock (I so wish that showed better in the picture!)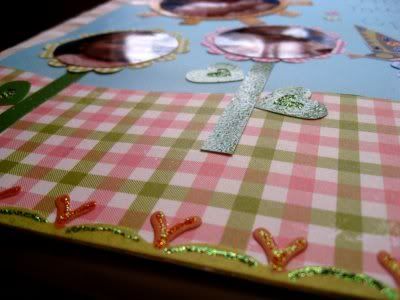 I used a Basic Grey Urban Prairie sticker strip for the grass at the bottom and added a butterfly from the same BG set. I accented the leaves, butterfly and strip at the bottom with Green, Orange Peel and Starry Night Stickles.

I love it when a plan comes together! Thanks for the inspiration Danielle! :)