I think tomorrow's Fab Five is going to be previous arts and crafts of mine. I tend to learn of new crafts or things I didn't know existed and get immediately wrapped up in it. I found another such neato thing yesterday and as I was stalking the internet to find tutorials, it brought to mind all of the things I've attempted or enjoyed doing in the past so maybe I'll post about that tomorrow. (Stay tuned!)
But onto what I think will be my next obsession (scrapping will still be #1 though!). And here it is:
Amigurumi
.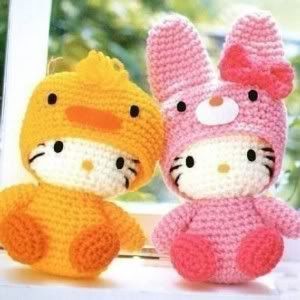 Since my husband and I are crazy about anything Japanese, these are right up our alley and I wanna make em! I wanna make em! Luckily I have a little bit of crochet experience so now I'm on the hunt to find useful clear instructions online before I go out and buy a ransom in books that end up collecting dust.
So has anyone out there tried this or does this or hates this or what? Any advice for a sort of beginner? Like "it's awesome!" or "run away!" ???