It's been one of those days today. You know the ones, you're on a roller coaster ride where one minute it's the best day ever and the next it just s-u-c-k-s. lol Hubby was off today (yay!) but Toot woke up at 6:00 this morning (boo!). We went to get Hubby's hair cut and I made an appointment to get mine cut Thursday since I haven't done a thing to it in a few MONTHS before Toot was born (yay!) then we get home and I remember that I'm going to a class on Saturday so there goes my hair cut money (boo!). We get a package today from Toot's Godfather in New York (yay!) and also in the mail was a notice that our mortgage escrow was short and we now owe them $300 AND our mortgage is going up about $20 more a month (BOO!!!).
Arghhhhhhhhhhhhhhhhhhhhhhhhhhhhhhhhhhhhhhhhhh!
*deep breath*
Okay...I'm good!
Anyhoo, nothing scrappy to share tonight. I just wasn't in the mood to get anything done although I need to get started on my last layout for the LPS Cruise Around the World in 8 Layouts. I also need to work on my layout for this week's Scripture Scrappers lesson on Joy but needless to say the last thing I was feeling today was Joy. LOL Tomorrow is another day!
In other news, Toot's Godfather is one of Hubby's bestest ever friends. They've been friends since they were in first grade together. Him and his fabulous wife sent us a huge box filled with sweet little odds and ends for Toot and also one big thing: a HUGE stuffed R2-D2 for Toot. LOL My hubby and his friends are WAY into Star Wars so there you go! I can't say much as I agreed to this picture on our honeymoon:
So also in the box was photographic evidence that R2-D2 did a little New York style sightseeing and partying before agreeing to come down South:

"R2 In The City"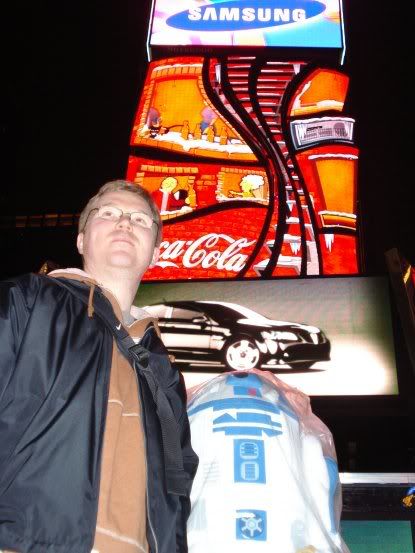 "R2 Marketing Shill"

"R2 Selling Out For His Vices"

"R2 With The Ladies"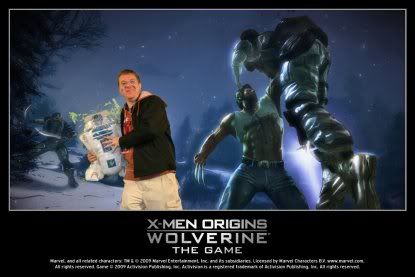 "Saving R2"