Good morning. As you can see, I have no audience and Toot is asleep. The blog you're about to read is so potentially dramatic that I've kept the typing of it as intimate as possible. (this is so much funnier if you've been watching The Bachelor) I'm going to show a layout first and talk Bachelor second so that those of you who come only to gaze upon my wonderous work can head out early. :P
Okay, how are there not 1,000 comments already to win the Cricut over at Life, Layout at a Time? Am I the only one that doesn't have one or something? Dude, get your commenting fingers over there pronto! And mention I sent you! (hey I could get a little something if you win!) Go HERE! Danielle's given us a deadline now, you have until March 10 to win the Cricut!
There's a new challenge going on over at
2 Scrappy Chix Designs
called "Make the Most of Your Stash". This is awesome for me because I love buying scrappin goodness and I'm not all that great at using it up before I buy more. There's a new challenge every week with a grand prize up for grabs at the end of the contest. This week's challenge was a sketch challenge and here's my result: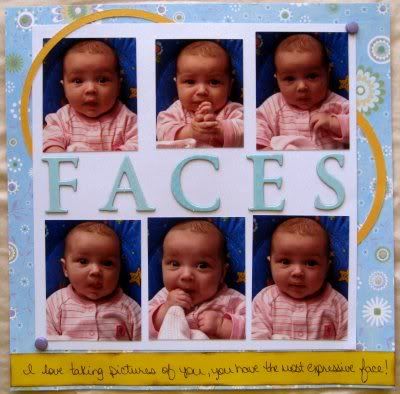 I wish you could see how glittery this layout is! lol I love using tons of pics in my layout and the sketch I chose was perfect for multiple pics!
Thanks for looking!
Now, what you really came here to read: Bachelor by the barrel full!

(warning: spoilers ho matey!)

The general consensus of the Bachelor finale was "Oh he picked Melissa...meh". We all knew he would after all, yes? ABC tried to get Deanna's arrival to be a major thing but, once again, reality failed to live up to the promos. So no biggie, the finale was sweet, we laughed we cried...blah blah blah...

And then...

Oh yes, and then...

The "After The Final Rose" (part 1?!) special immediately started. Now, I've always felt that promos are mostly junk. But for once, Chris Harrison's ominous intro of "potentially dramatic" and "parties involved" speech actually delivered! Finally! That's right, Jason dumped Melissa and asked Molly for another chance. Wha??????

Here's the thing, there's a whole lot of "what a jerk!" and "how could he do this?" going around and I can see why they are saying that. To be dumped is horrible under any circumstances (at least to the dumpee) and I hurt for Melissa as she sat there crying. BUT come on, she wasn't totally surprised by what happened. You can't tell me that she really thought everything was "perfect" before then. I'm not saying it hurt any less but she knew something was coming. I know when you love someone and everything starts to feel "off" you try to hold on and both parties either have to decide to work on their relationship or they bail. Jason bailed. Apparently because he couldn't stop thinking about Molly. Well, what he did sucks but at least he was honest and didn't drag this on forever. Melissa is much better off and if Jason and Molly work out, more power to them.

He's being compared to Brad Womack (who chose no one in the end) and I'm confused by the comparison. Why is it bad that Brad chose no one? Sure, he wasted everyone's time but at least he didn't choose someone for the sake of choosing someone, knowing it wouldn't work. Back on topic, I believe Jason when he said that, at the time, what he felt about Melissa was true and he wasn't lying. Seasons change, people change (wait, isn't that a song? By Covergirl I think...) and people break up. Just because it's televised doesn't give us the right to be incensed that they've broken up and ruined our fantasy of a happily ever after...or does it?