Deja vu, didn't we just watch Dancing with the "Stars" on Monday?! Oh right, now we have to kick one to the curb. This should be fun! My early prediction: it will be either Buzz Aldrin or Kate Gosselin.
So this should be a short post, yes?
First of all, why are some couples wearing the same thing and others changed their clothes?
First safe "star": Buzz, color me surprised!
First couple in the bottom two: Pamela and her dancer partner guy. What the what?! I can think of about 8 other couples that should be there in their place. Oh crap, is this show drawing me in??? Nooooooooooooooooo!
Well, not so short of a post, they're starting to flashback again. Crud. Wait, we gotta see them dance AGAIN? Are they showing last night's or are they making them do the same dance again? Holy crap I'm never going to make it through this show. We're what, 8 minutes in? I'd like to go on record as saying that a separate results show is TOTALLY unnecessary. Bring on Uncle Jesse and The Beach Boys!
Oh okay, now I know why some were wearing different stuff. I guess the professionals do a dance to show the "stars" what dancing is? Actually, they're probably just happy to be performing with people that know what they're doing. This number makes me miss Solid Gold. Remember that show?
Oh snap! Or Dance Party USA, remember
that
show??? I wanted to be one of their dancers SO bad! You've got to see this video, look at the girls' hair...THE HAIR!!!
Ah the memories...huh? Oh right! The DWTS results show...oops.
Adam Carolla came on and did some sort of snarky schtick. Hey, that's my job!
Oh, another safe announcement: That guy and the girl that elbowed him and Niecy and her partner are both safe. Then Brooke talks to Pam who is in the bottom (BOO!) and Buzz who is safe to "dance" another week (surprise!). Hang on a sec, I'm going to fast forward a bit here...
Oh geez, now they're talking about some nameless models wearing Macy's something or other? Listen, this is a snooze fest. Y'all know I love me some Full House, I just wanna see Uncle Jesse play with The Beach Boys.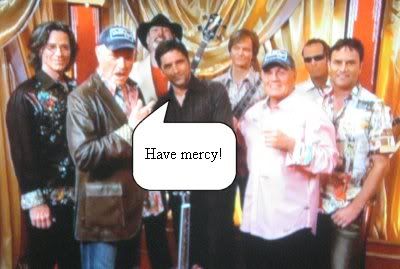 Geez, talk about a man getting better with age. Holy smokes, he's cute. Ooo, the Boys aren't sounding quite so Beachy anymore. So for those of you that are fans of the show, is this how the results shows are? Tons of filler, few results? Seriously, ABC could have just sent me an e-mail with the name of the person kicked out or even Tweeted it. Now I have to watch some comedy bit with the middle judge acting like Moses? Nice job ABC, now God and I both hate your show. They issue the dancers some challenge about wanting to see a story in their dance next week. Whatever.
Another couple that's safe: Sk8trBoi and that redheaded girl. They also feel the need to tell us for the 10th time that Pamela is in the bottom. WE HEARD YOU THE FIRST TIME TOM! Geez.
Another couple safe: Bachelor Jake! Okay, I'm kinda happy about that, shut up.
Also safe: The Pussycat Doll. Well, duh.
Now they start talking about the earthquake in Haiti. Well, that's a downer. Good dancer number though. Oh for the love of, now they're showing us behind the scenes crap? ARGHHHHHHHHHHHHHHHHHHHHHHHHHHHHHHHHHHH! Just get rid of someone already!!!!!
Another safe couple: That girl from ESPN that needs a better bra.
And "joining them": Ochocinco...wow, another surprise.
Okay, so Kate is safe (WTH???) and Shannen Doherty is sent to the bottom? COME ON! And although I'm happy that Pamela made it through, I'm bummed to see Brenda go already. Stupid eye rolling Kate.
Okay so there, we're done for the week right? There's no other episodes till Monday, yes? Yes! :D
Make sure to come back tomorrow for a fun, exciting surprising announcement surprise! :D