Hello everyone!
You know, I had so much fun writing recaps of Jake's season of The Bachelor and a couple of people asked me if I was going to write recaps for the newest season of Dancing With The Stars. My answer to that question was...well, I can't say what my answer was since we're in mixed company but it involved the letters N and O.
I said no primarily because...well...I've never watched DWTS and quite frankly wasn't really interested in watching it this season, even with Jake being on it. BTW, what is he doing on it anyway? Tenley should have been on it ABC...idiots. Anyhoo, one plea resonated above the rest and it is for her, my fabulousness that is Deb from
Sparkling Scrapbooks
(and all of you of course) that this post is being uh, posted. (Although
Deb
really only asked that I watch it not really blog about it but being one to always go above and beyond...You know, I'm just that awesome.)
So for Deb and DWTS lovers everywhere, please to enjoy one woman's view on a show she's never seen before:
"It began 5 years ago..."
Wait, this show has been on for 5 years and 10 seasons?! Holy crap!
Uh oh, 60 seconds in y'all:
My head hurts...
Okay, how bad is it that I don't know who half these people are? And Buzz Aldrin?! Nooooooo! Elementary students and aspiring astronauts everywhere are crying. Hey, you ever get that freeze dried ice cream they sell at museums that are suppose to be what astronauts eat? Yeah, that stuff is gross.
So they introduce everyone and while that is helpful, I'm still stuck on Buzz Aldrin being there and then I got lost somewhere in Pamela Anderson's hair.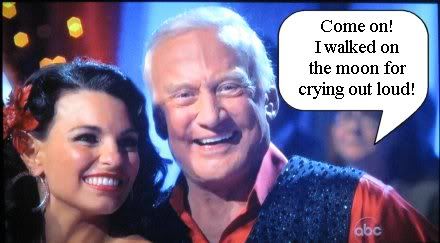 Poor guy...remember when you used to be learned about in school? Now you're on a reality TV dancing competition show. Welcome to the new millennium my friend! And what's that I see???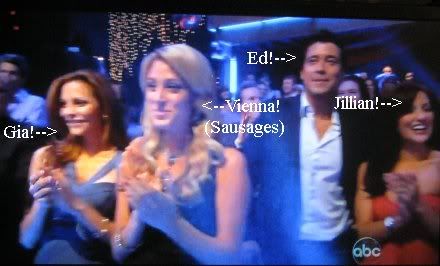 A Bachelor section!!! Wow, that's nice for them to have their own area. You know what would be cool? If there was a "Rock of Love" area and then at some point there's a brawl in the middle of the dance floor between the two sides. Awesome!
Where was I? Oh right, I'm not even through the introductions yet, blurg!
Anyway, Chad OchoCinco (who?) is up first. Wait, we have to watch them practice before they perform? You know, now that I'm watching this, I'm starting to think that this could be zzzzzzzzzzzzzzzzzzzzzzzzzzzzzzzzzzzzzz
Huh? What? Excuse me, I must have nodded off watching them "practice". Bring on the sequins please! His partner's dress is yuck and if you're just going to raise it the whole time, why wear a skirt at all but if I'm not mistaken, her shoes are glittery. They should win! They name a winner at the end of this episode, right?
Anyhoo, blahdeblahblah from the judges and they send them off to some isolation booth. Geez, now we have to listen to them talk?! This going to take forever!!!
Scores for Chad: 6 - 6 - 6 Oooooo evil!
This is such a weird group of people and just who let Jake wear a friggin' peach bow tie?! Is he going to a 1980s prom with an Under the Sea theme?: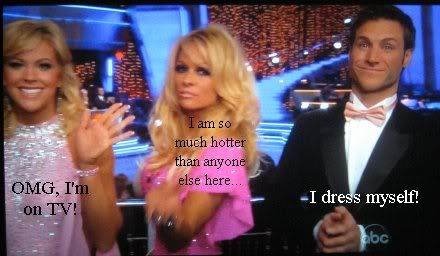 Ooooo Brenda's next!!! Remember the time that they went to prom and her and Kelly both wore the same dress and that night she gave her virginity to Dylan??? Brenda says that she's terrified of judging and if I were the judges, I'd be terrified of her. She scares me.
Hey, is it normal for the audience to "woo" at every little thing the dancers do? It's not like they're doing loop-de-doops or break dancing or anything. She looks like she's going to throw up. She says she's dancing for her dad who had a stroke which is very sweet indeed. One of the judges calls her a monkey. I want that sparkly thing she has in her hair.
Scores for Brenda (a.k.a. Shannon Doherty for you non-90210 fans): 6 - 6 - 6 Wow, this show is pure e-vil!
Hey, even Brooke's microphone is covered in sparkles! I may like this show after all...
Some chick from ESPN is up next. I hope the bra in her performance dress is better quality than the one she's wearing in her intro video. I'm pretty sure she came away with bruises. Anyway, I'm blinded by the banana fringe she's wearing so I'm going to assume she did a good job.
Scores for this chick: 7 - 7 - 7 The cycle of evil has been broken! Wait, does three 7's stand for something evil too? Maybe
more
evil?
Oh snap, Jake's up in his smart looking peach tie! Oh Lord, he gives his partner a rose. *barf* He says he doesn't think he's a good dancer and he's never been more right in his life. Wait...what are they dancing to? No way, they wouldn't do that..."A Kiss From a Rose"??? Really ABC? How could you allow it, Seal? HOW COULD YOU????????????????????
And what is up with his partner's hair? It's like elegant in the back and then there's some sort of 1990s poof in the front. Bleck. Well, he didn't break her in half with his two left feet so that's something.
Score for Doofus: 7 - 6 - 7
That girl from Clean House is up next. I love the lipstick she has on, very red. Wow, this show is very glittery. She did pretty well and then crushed her partner at the end.
Scores for Niecy: 7 - 5 - 6
Geez, there's really an hour left in this show? Holy Monkees. Some male figure skater is up next. His partner is barely sparkly at all. Meh. Dude, this guy is all arms and legs isn't he?
Sk8tr Boi Score: 8 - 7 -8
Aldrin's up next. Buzz Aldrin. Buzz...Aldrin. Wow. Oh this poor thing will not be on this show long. He's trying so hard counting and everything. To the moon Alice!
Scores for an American Hero *grimace*: 5 - 4 - 5 Our country has sunk to an all new low.
Some girl from the Pussycat Dolls is up next. She looks tiny. I bet I could break her in half over my knee. You know, I was kind of hoping this first episode would be like the first episode of American Idol where all the funny things happen but this is not like that at all. *snore*
Score for the Doll: 9 - 7 - 9
Some guy from "All My Children" is up next. My mom used to watch this show when I was a kid but I don't remember any of the men on that show looking like this guy. Holy crap.
Wait, they're dancing to a cover of "Hungry Like the Wolf" by Duran Duran??? My adolescent years just burst into flames. Seriously, they got the rights for this? Why God, WHY? *dry heave*
Score for the Hot Guy: 5 - 5 - 5 (Less evil than the first two)
Kate, formerly of Jon Plus 8 is having her turn on the floor and she looks like a lovely pink tree trunk. Note to wardrobe: never give her a drop waist again. Ever. Oh my goodness, that new hair does wonders for her.
Score for the less creepy Octomom: 6 - 5 - 5
Pamela Anderson is up next. She says she's dancing for her Auntie which is too cute. That's it, I want her to win. Hey, when did the Cha-Cha get an extra cha added to it? They keep calling it the cha-cha-cha, has that always been the name? Oh right, they're dancing! She ripped his shirt off...ewwwwww!
Scores for Pamela: 7 - 6 - 8
Andddddd done! I made it through my very first episode of Dancing with the "Stars"! Go me! :D All in all, it wasn't bad. Lots of sparkles and horrible song covers, it really is an 80s prom! BTW, I'm not planning on recapping the rest of the season, this was just for fun (and Deb!) lol
Hey, you know this show and Toot have something in common, did you know that? That common thing happens to be Tom Bergeron who hosts America's Funniest Videos which Toot will BE ON THIS SUNDAY, 3/28th. Check your local listings! :D