EDIT: Thanks to all of your amazing title suggestions for my layout contest, I've come to the decision that I need help deciding my favorite. lol So my husband is going to help me and I will announce the winner this weekend! Thanks for entering, feel free to add more before tomorrow if you want! :D
Hi everyone and welcome to this week's Friday Night Fab Five where I list 5 things for the week that I generally adore. This week it's all about being crafty. You can only be as crafty as the glue you use to keep everything from falling apart, eh? :D I love finding new adhesives to try but do find myself surrounded by 5 stickies in particular (all photos from
Amazon.com
):
1. Aleene's Original Tacky Glue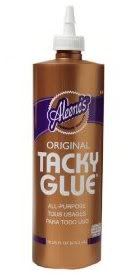 Aleene's can be used for a variety of projects. I use it mostly on fabric-y type things that are awkward to use with other adhesives.

2. Mod Podge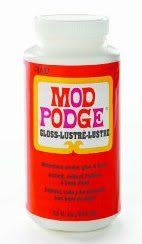 My mom is the Queen of Decoupage so I was practically raised on Mod Podge.
3. Terrifically Tacky Tape
This stuff is awesome and is a God send for attaching sequins. It comes in different sizes and it is s-t-r-o-n-g.
4. Glue Dots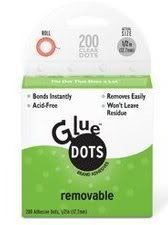 I'm new to Glue Dots but it was love at first glue. They're clear, come in different sizes and are extra sticky.
5. 3L Tape Runner
Ah, the old tried and true tape runner, my scrapping best friend.
And there you have it for this week's Friday Night Fab Five!
What are some of your favorites this week?