Hey y'all!
Well well well, it looks like in my effort to take over the world, I have begun in stellar fashion by taking over Yvonne's blog,
Do More With Less
. That's right, all of this fabulousness cannot be contained on just
one
blog! (Well, two if you count my vintage blog...actually with my gaming blog that would make three...oh nevermind, you know what I mean!) Muwahahahahahaha!
To sum up, today I am a guest blogger on Yvonne's blog so if you would like to see more of this:
Get your fab selves over there right now by clicking in this link:
Just Add Glitter and Stir
. There's Action! *gasp* Adventure! *double gasp* Romance! (huh?) Okay, no romance but it is my first guest blogger spot ever and I'm nervous so pretty please with glitter on top do two things for me?
1. If you don't follow Yvonne's blog already, you need to right now. Her talented is crazy amazing and she's super cool as well.
And 2. Leave an itty bitty comment over there saying hello to me? Anyone? Bueller? *crickets* I'm vulnerable here people!!! :D I'm willing to pay you in cute Toot pics:
First time painted baby toes:
First time trying a yeast roll: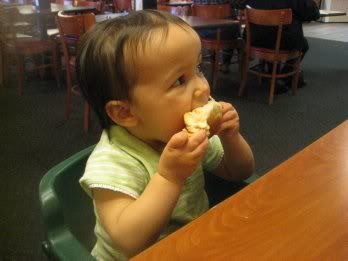 How about the Cheerio with a strong will to live?
If those don't work, let me know - I have a billion others I can post and I'm not afraid to use them! :D
Thanks everyone! And by the way, I may have been persuaded to continue recapping Dancing With The "Stars"...maybe. :D Have a great day!