So this week's Dancing With The "Stars" theme was "Movie Night", every couple had to dance to iconic songs from the movies. *sigh* This is going to get ugly quick. As long as they don't use any music from any of the movies I love, I'll be okay. What the heck is Brooke Burke wearing? She looks like a piano threw up all over her.
Any chance they'll kick more than one couple off this week? This show is super dragging out here...Anyhoo, I can already tell that this week is going to be scarring, Tom Bergeron mentions "Pulp Fiction" and that ESPN chick is trying to look like Uma Thurman. Well, there goes my high school angst up in flames. Thanks a lot, Dancing With The "Stars".
Niecy Nash is up first and she reacts to last week's judging of her being boring: "Boring?! Oh-hah, nobody calls me boring!" Um yeah...see Niecy, you've been pretty boring lately so I'm sorry if you think you're not boring and maybe in your everyday life you're a mile a minute adventure but with these emo slow boring dances, well you're just boring. Don't feel bad, you're not the only one!
So let's see what she does with "La Bamba"...Well, she does shake her chesticles around a lot so I guess that's sort of not boring. (She asks the judges about her "jiggling".) But she'll probably be covered in bruises tomorrow. Believe me, I know. Overall, the dance seemed very Niecy. She needs to stay away from slow boring songs from here on out.
Niecy's Jiggling Score: 6 - 6 - 6
Time for 85 to dazzle us with his movie moves, I'll be happy as long as they're out of that horrible color from last week: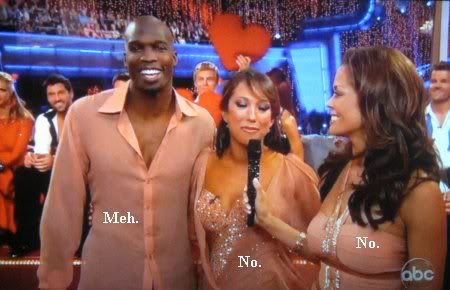 So him and his partner "quick step" to "Bare Necessities" from Disney's Jungle Book while wearing tiger print. Yep, it's as bad as it sounds.
Score for the eye of the tiger: 6 - 6 - 6
That girl from ESPN is next and I'm so dreading this...I'm a HUGE Tarantino fan. I love Pulp Fiction, why must they destroy everything I love?! Why why why?! Gross, they're reenacting the dance contest scene. Nooooooooooooooooooooooo! How dare they cheapen John Travolta's comeback?! Travolta!!!!! Comeback!!! Here's how I feel about this, circa Toot at 2 months old: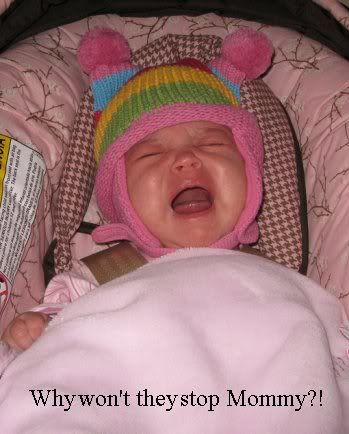 Score for stomping on my memories: 7 - 7 - 8
Bachelor Jake is next up and they keep mentioning Risky Business. Now, there's only one song I can think of from "Risky Business", but they wouldn't do that to me, would they? Jake says something about people thinking he looks like Tom Cruise. Uh...sure. *eye roll* Then during rehearsals we get to see Jake without a shirt on, trying to do something cool with a volley ball and his partner is all like, "Wrong movie moron" to which he replies: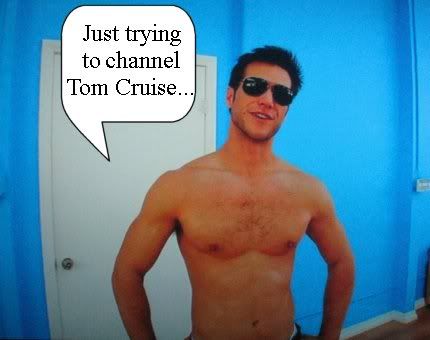 *dry heave* Then he tells us that his partner really wants him to feel the dance and he thinks he's "finally found that in my cha-cha and I'm really hoping that it comes out tonight." Dear Lord no, leave it in! Leave it IN!
But of course he didn't leave it in and we're treated to about 2-3 minutes worth of hell i.e. Jake in his underwear. "But Maggi, he's so good looking! Why wouldn't we want to see him in his undies?" Well, with any other man, you might be right. However when Goober's involved, something potentially awesome is brought to ruin with his lameness. Case in point: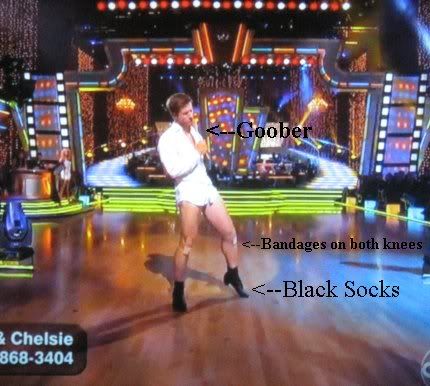 Luckily his partner brings him some pants which he puts on in the middle of the dance floor. I'll spare you the rest.
Score for Goober McDouchetown: 8 - 7 - 8
Pamela Anderson is up next and they dance to "9 to 5". Can I just say, I think Pamela and I could be friends. Sure, I'd be her ugly friend but still, she looks like she'd be too cute to hang out with. Her costume is precious but it does look like they're just running around in circles.
Score for my BFF: 7 - 6 - 8
Ahhh...that was nice to see a sweet, fun dance...So who's next? Ah crap, it's Kate. I don't care what she's been through, her attitude SUCKS SUCKS SUCKS. This show is suppose to be fun, bright, airy, entertaining, yes? Send her home America, end this misery already! AND she's dancing all over another memory from my childhood and she looks like some sort of off brand Barbie you get at the grocery store. I can't believe they're dancing to "Don't You (Forget About Me)". Why does ABC hate me so much? What did I do?
Score for whatever: 5 - 5 - 5
The Pussycat Doll is up next and they're doing "Pretty Woman". Not much to say here. She's already a dancer and is great...just like always.
Score for the Doll: 10 - 9 - 10
The figure skater guy is up next, they're dancing to Aerosmith's "Don't Wanna Miss a Thing" which means I'm out. Bleck Ewwww *fast forward*
Score for this guy: 9 - 9 - 9
And now on the the results...you know what, let's just cut to the chase: They force us to watch Bachelor Goob dance with his *this close* to a boob flash partner and Kate goes home. All is right with the world.