Hey y'all!
Welcome to another Friday Night Fab Five where I list 5 things that are awesome...at least to me. :P This week is all about...well...things that happened to me during the week this week. Week! :D
1. New Vintage Dress
I was able to get this awesome new (to me) 1950s dress this week, not without some drama though - you can read about that on
Circle 7-2099
. :P

2. Famous Tweets

(Click for larger :D)
Paris Hilton Tweeted about the things I made with her Creativity collection!
3. I'm a Winner!
Lenna from
Creative Lenna
was having a giveaway on her blog for reaching the 500 posts milestone and I won a free registration for any of her classes! I have been drooling over her
Mini Art Quilt Book class
so that's the one I picked. Can't wait to get started!
4. International Snacks and Local Calls
Carmen from
Whoopidoings
sent me this month's ATC for the swap group along with a letter, some awesome vintage-y postcards and some rockin' UK chocolate:
PLUS I got the pleasure of talking to Deb from
Sparkling Scrapbooks
on the phone this week! We're were talking about how fun it would be to have a meet up with all of our bloggy friends. Wouldn't that be fun?
5. This Week in Toot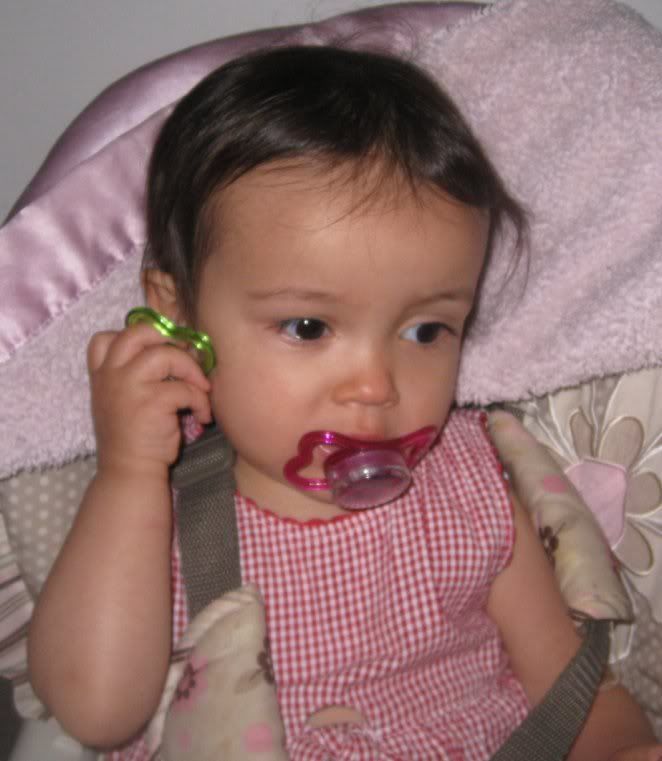 I so wish I had video of this because I'm not sure explaining it will make much sense. So Toot's waiting patiently for dinner and I guess she got so bored she decided to suck one pacifier while screwing the other one into her ear like a Q-Tip.
And that's it for this week's Friday Night Fab Five! What are your favorites this week?
Don't forget you have until Midnight on Sunday, May 30th to get your entries in for the Gauche Alchemy
Mixed Media Mamas Challenge
!
Have a great weekend everyone!