Hey y'all!
You may have noticed that I've been pretty absent of late around the blogs and at first I was thinking, "Oh everyone will understand and figure that I'm just taking a short break, no worries" but then I came to realize that a little bit of an explanation may be in order.
I've been feeling pretty lousy the last few weeks, extreme fatigue and what not. And being the type of person that doesn't go see a doctor unless a limb falls off (no real philosophical reasoning here, I'd just rather spend that co-pay on glitter :P) I let it ride. I'm feeling better now and figure this is probably just a blip on my hormonal radar. (And to answer the question no one is asking: no, I am not pregnant and yes, I am sure. :D) On top of that, it seems that every crafty type thingie I've attempted to make lately has been caca poopy yuck yuck, therefore nothing to post about anyway. LOL
Plus, lately I have felt the need to "unplug" a little bit. I spend A LOT of time online and while my husband has never been anything but supportive and never questions my "hobbies", I've been feeling like I need to back away just a little bit. That being said, I have missed y'all so much and hate that I've missed so many awesome things that you have blogged about.
BUT the silver lining is that I will be absent for about another 2 weeks! Wait, did I just insult myself? Anyhoo, this weekend we are off to sunny Bronx New York! Woo hoo! As you know, my husband is from the Bronx so we're off to see family and friends and of course, hit up Manhattan so I can spend way too much on vintage who-knows-what and Japanese dolls that I could just buy online and pay half as much. (Yes, I am just that addicted to instant gratification so there.)
For those of you that have been hanging out with me for a while, you'll remember in August of last year we did this trip and had a blast! Toot loved the bus ride into the City: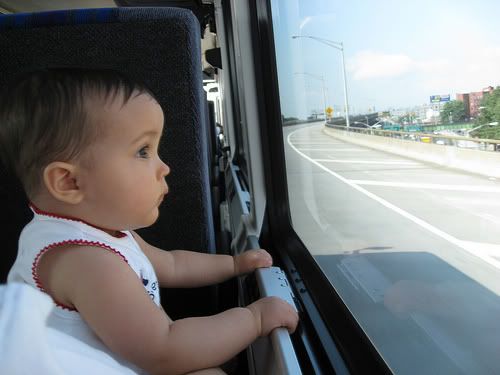 Toot in Times Square! (She was 10 months old then I believe...)
And I finally got to realize my dream of eating at
Ninja New York
where I ate delicious Japanese food, drank diamond sake and had this dessert:
It was also during this trip that I bought a vintage hat so expensive, I still throw up in my mouth a little when I think about how much I paid. Ah well, I blame New York. ;)
Anyhoo, all that to say that I will be around as much as I can but will have limited internet access. I may or may not be posting for Vanessa's Mad Tea Party on Saturday but will try my best to post
something
here while I'm gone. :) I hope y'all are all having a fabulous week and look forward to catching up with you soon! :)
P.S.-If you've blogged something super awesome that I really should see, please leave me a link to the post in your comment! :D
*air kisses all around*