Hi everyone!
I hope y'all had a great weekend! :) I've got a little project I'm working on to show you today. It's a little out of my norm but I'm excited at how it's coming along! :D I've talked about
Pullip dolls
on this blog before but may have not mentioned that one of their allures for adult collectors is the ease with which you can customize them.
Although you can leave them the way they are of course, most people enjoy changing their wig, eye chips, outfits and some even institute
extreme changes
such as face carving.
So anyhoo, I had bought this Pullip:
She's cute, eh? But I had a hard time really giving her any attention...or maybe I was just bored. lol In any case, I got out my trusty paints and bling (naturally) and now she looks like this:
I started by sanding off her original makeup and repainted her eyes and lips using model paint.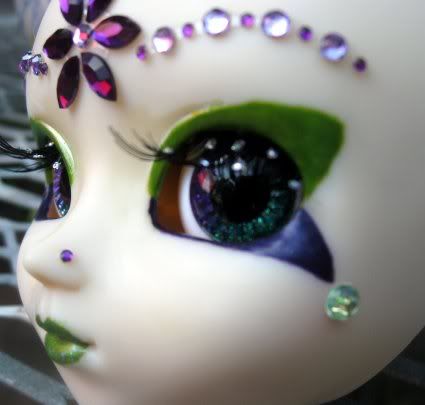 I added new eyelashes and changed her eyechips (which of course I enhanced with Stickles, lol).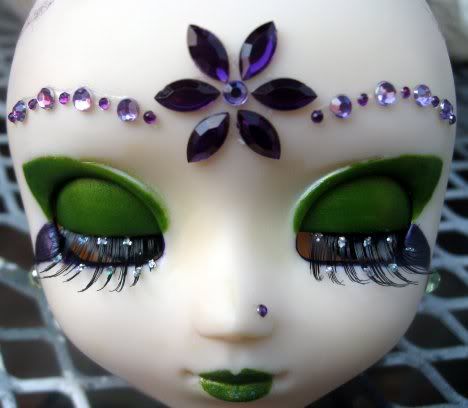 I just HAD to bling up her face as well, that part probably doesn't surprise you at all, right? lol And don't freak out about her Daddy Warbucks look, I've got a new wig on the way! hee hee Once she's entirely finished, I'll be sure to post more pics!
So for my first try at customizing a Pullip, I feel rather proud of myself! These dolls can provide a blank canvas for creative types that really open up so many possibilities.
My next project: Visiting a billion blogs to make up for my absence...pray for me. LOL ;) Whaat are you working on?