Hi everyone and welcome BACK to Just Add Glitter and Stir! :D
I've been a busy little bee since we last talked: still pregnant and growing a mile everyday (we find out the sex next month!), crocheting my fingers off, started my Christmas shopping and let's see...what else?
Oh right, earlier in October Toot turned 2 years old. Here she is with a birthday cake her Great Grandmother bought her. Granny was hoping that Toot would dig into the cake and make a big mess but Toot just liked looking at it:
I would show you the video of us singing "Happy Birthday" to her at her party but she was in a FOUL mood and I was totally off-key so I figure who needs to see that, right? lol I also had a birthday in the latter part of October, here I am with Granny (I'm the one on the left):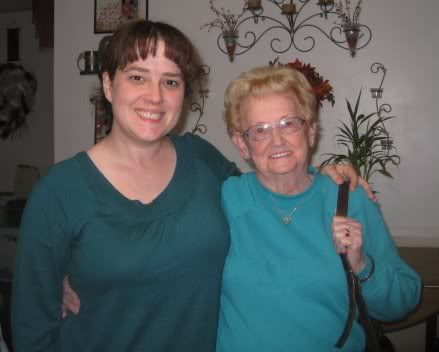 I've been missing the old blog lately so I'll be getting back in the swing of things soon. :D I might even get the lead out and put up a Friday Night Fab Five tomorrow. *gasp* Hopefully you'll see a new look around here soon AND I'm planning a mega handmade type giveaway next month so look out for that too.
I hope you're all doing well and I look forward to catching up with all of you soon! :)