Hi everyone and thanks for stopping by Just Add Glitter and Stir for the
One World One Heart
blog extravaganza!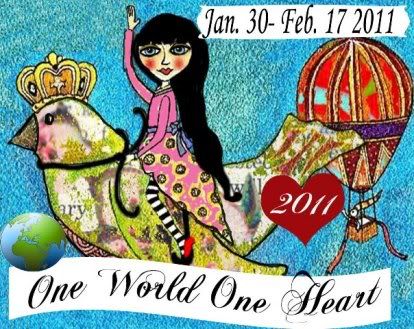 This amazing event is hosted by Lisa of
A Whimsical Bohemian
as a way to connect bloggers around the world! This is my first and unfortunately last year to participate since Lisa will no longer be running the event but hey, we have this year so let's blog it up! :D OWOH runs from today, January 31st until Thursday, February 17th and I just happen to have a little prize for one lucky blogger! :D
For you first time visitors, I'd like to tell you a little about me and what I like to blog about:
My name is Maggi, lover of craftiness, vintage and blogs, oh my! My husband and I met on Xbox Live playing video games and we're basically a couple of geeky kids.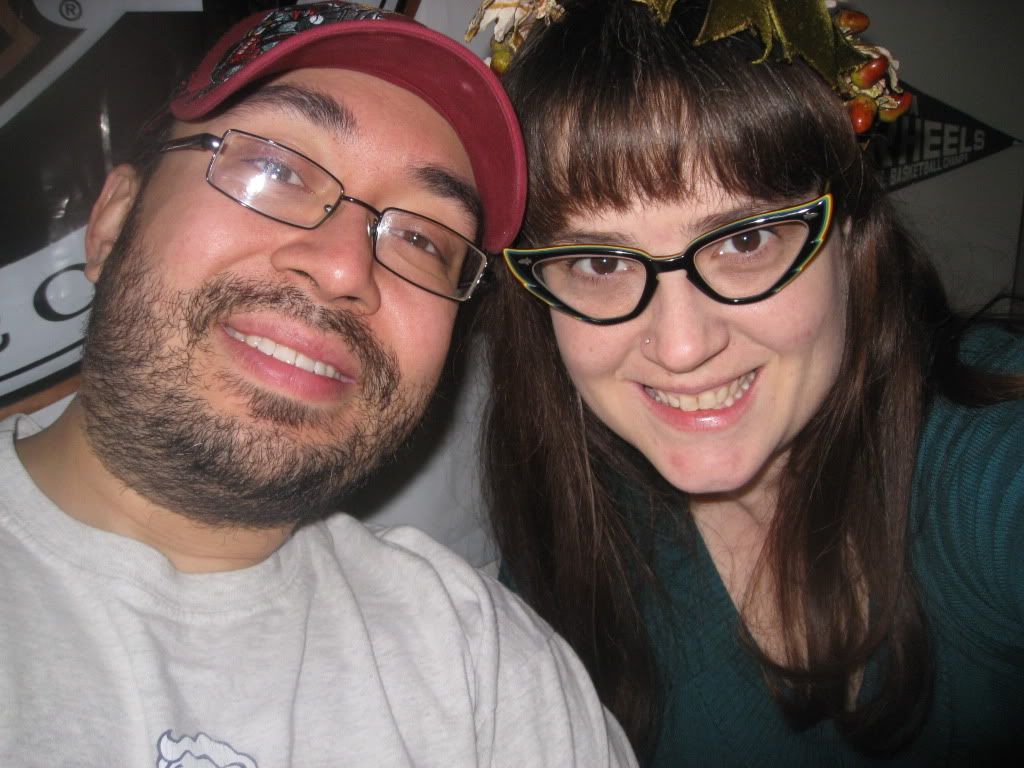 I'm a stay at home mom to my 2 year old daughter, Toot.
I am currently pregnant with our second daughter (suggestions for nicknames welcome! lol) who will supposedly make her appearance in May.
This blog is mainly about my crafty life, I love to create!
I enjoy
scrapbooking
,
crocheting
,
mixed media type projects
, cross stitch, resin, polymer clay...a long list of things really. I want to try it all! lol
I never presume to portray myself as the perfect wife, mother, artist - if you see a new project on this blog, chances are my dishes are dirty and I still haven't vacuumed the den. :P
I also enjoy blogging about my favorite things, crafty or no and started writing my
Friday Night Fab Five posts
where I list 5 things I adore during any particular week. You'll see
Toot
hanging around here some days and I also make fun of
reality TV
from time to time. I try to keep my readers entertained and strive to create an easy, fun atmosphere.
(Picture from ABC.com, snark from yours truly.)
I so enjoy blogging and am ever grateful for the friendships it has brought me, the insight I've gotten into other cultures, new ways of doing things and all the recipes I've swiped for my own gluttonous purposes. :P As a thank you for spending some of your time with me today, I want to offer a little gift:
It's a little rainbow complete with clouds that I crocheted using the birdie decoration pattern from
Attic24
. :D
Here's how to win:
-This giveaway is open to all active bloggers worldwide!
-All you have to do to be entered is leave a comment on this post and make sure that I have a way to contact you. (If your e-mail is not active in your profile or on your blog, please leave it in your comment!)
-The Winner will be announced Feb. 17th here on the blog and I will also contact the winner via e-mail.
Good luck and don't forget to visit all of
the other wonderful participants of One World One Heart 2011
! Now if you will excuse me, I've got some bloggers to meet! :D