Hi everyone!
First I'd like to say a "Hello!" and a "Thank God you're here!" to my newest followers. Thanks for visiting me and if you have time to say hello back, well that would just be super! Thanks for being here. :)
And with that, welcome to this week's Friday Night Fav Five where I list 5 things that I cannot live without this week. Let's jump right in:
1. BBC's Top Gear
Let me start by saying that I am NOT a car person. All I need to know about my car is where the gas pedal is located. My husband got me hooked on
Top Gear
and I am in L-O-V-E with it. I am in love with hosts and the various challenges and races they do have had me in tears from laughing so hard. Did I say "love" already? Please note: watch BBC's Top Gear NOT the American version. Trust me...
2. ilomiloilomilo
was released this week on the Xbox Live Arcade and it is super cute and a great puzzle game. I've already ignored Toot twice while playing it. :P And at only 800 MS points, it's a great deal. I also want to go off and crochet ilo and milo for myself. So cute!

3. Cross Stitch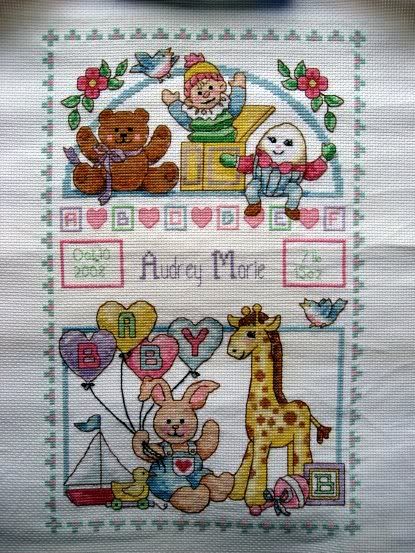 The last time I cross stitched anything was this birth sampler for Toot. Well, now that I'm knocked up again, it's time to take out the needles and thread and get to work on the new baby's birth sampler. (This one is going to have fairies on it, yay!) Actually, since I've been working on her sampler - it has led me to thinking of what else I can cross stitch...hmmm...
4. Care Bears
I just love the
Care Bears
because...wait a minute...I don't like the Care Bears, Toot does! She's been messing with my Fab Five again. I
used
to like the Care Bears until I was forced to watched the movies on Netflix over and over...and over and over...and over. *shudder*
5. Chocolate Milk
What? I'm pregnant, what do you expect? Chocolate milk is yum...Just "hook it to my veins!!!"
And there you have it, this week's Friday Night Fab Five!
What are your Fab things this week?