Hi everyone!
Before I get started I wanted to make you aware of a couple of places where I've guest blogged lately. The first is a post entitled
"Organize Your Inspiration"
over at Gauche Alchemy and the other is a quick post on why I blog over at
Little Red Crafting Corner
. Cazhugs is a new blogger who created
Little Red Crafting Corner
and I would LOVE to see some people visit and leave her some love. Blogging can be tough when you're first starting out so let's show her what a great community we have going here! Thanks!!!
So you're probably aware of the saying, "Pick your battles". This can be applied to any facet of life but being the mother of a two year old, I'm finding that "picking my battles" becomes an hourly thing around here.
Recently I could not, for the LIFE of me, keep Toot out of the dog's water bowl. She saw him drinking out of it and all of a sudden just HAD to start drinking out of it herself. And of course her response to my slow-mo dramatic "Nooooooooo!" was "Mmmmm, goo wa Mama!" (Toot Translation: "Mmmmm, good water you're such a bad mother, why else would I drink from a dog's water bowl, hmmm?")
So after begging and pleading, time outs and varied other methods of discipline had no effect, I decided that this was one battle I just wasn't meant to win. Sometimes as a parent, the path of least resistance is the only path that won't lead to you burning down your house and making a run for Rio.
So a deal was struck (as much as a 2 year old can understand the art of making a deal): if Toot stayed OUT of Lebowski's water bowl, I would in turn provide her with her own water bowl. Believe it or not, this not only was a HUGE success but kept Toot busy for a good 15 minutes at least. SCORE!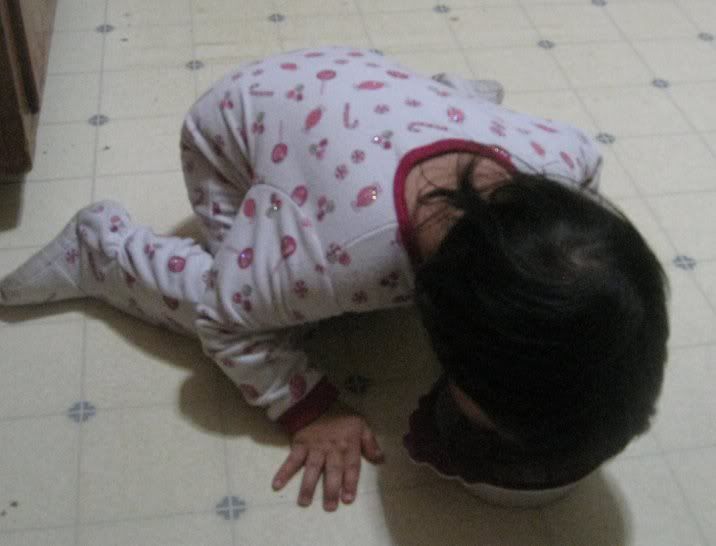 Am I ashamed to have my 2 year old drinking water out of a bowl on the floor? Pfffft, please. So far I'm thinking this is the best parenting decision I've ever made.
"Goo wa" indeed, my little Toot. Plus, because I am such a wonderful mother, I videotaped her drinking out of said bowl. What? I gotta have
something
in my blackmail arsenal, right? Muwahahahahaha!
Plus, come on - this kid is cute...even as a dog.