Hi everyone!
Tomorrow starts my week of giveaways to celebrate my 2 year blogoversary!!! Monday thru Friday there will be a new awesome who-knows-what up for grabs so make sure to come back!
I don't usually post on Sundays but before the crazy week of giveaways start, I wanted to take a minute to tell you how I started this blog and why I continue to blog today.
Beckie from
Infarrantly Creative
wrote a fantastic series of posts entitled
My Blog Story
in which she recounts the origin of her blog and how it's grown in its 3 1/2 years. This blog of mine hasn't been around
quite
as long but with my 2 year blogoversary coming up this Wednesday the 19th, I thought I would post my thoughts on how far this blog has come and why I still blog today.
I started this blog primarily because I had another blog that was strictly about my gaming life and wanted to have a space where I felt more comfortable writing about the everyday. Husband, kid, life in general, etc.
Toot now
At about my 5th post in, I showed a few of my scrapbook layouts (being out the scrapping game for years but starting up again once Toot was born).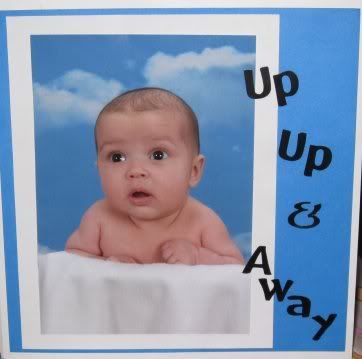 One of the layouts from that post. "Scraptastic" indeed, yes? :P
Believe it or not, I had no idea scrappers used more than just stickers for layouts. Blogging got me wondering if there were any other scrappers out there and wowowowow did I experience an eye opener as I found people using inks, punches and something called "Stickles". I even wrote about it all in this early post,
Scrapbooking Counter Culture
.
It on that post that I got my very first comment from a "stranger". It was Peggy from
Treasured Memories
and I left her a comment recently thanking her for leaving that first comment when I started blogging here.
Because basically, I didn't start out writing this blog to get people to read my rambles. I really just wrote it to have a place for me to share my life and myself but once I got someone commenting here and there, I discovered an entire community of people that I could...well, "commune" with through this blog and their blogs.
I wrote my first
Friday Night Fab Five post
in February 2009 and am proud to say that I've been fairly consistent in keeping that alive. :) I joined a scrapbooking forum
Life Preservers Scrapbook Club
and met a great group who taught me a lot about scrapbooking and are some of the sweetest ladies around.
So the first part of this blog was really all about scrapbooking for the most part. I've met so many awesome scrap bloggers who I still visit and consider to be my friend. Since then I've started working with mixed media, discovered what the heck an "ATC" was and have learned so many other techniques along the way.
But for me, blogging isn't just about all that. Now that I'm two years in, it's really become more about the community of it all than anything else. I've congratulated you when the good times come rolling in and cried with you when they go rolling out. You've been there for me too, always supportive and willing to laugh at my jokes, no matter how lame. I now enjoy visiting fashion bloggers, designers, mommies, foodies, scrappers, every sort of crafty you can imagine, vintage addicts and people from literally all around the world.
You all have taught me so much and oh how I wish I was infinitely wealthy and could just fly you all out to one place to party it up and meet in person. Everyone needs a place to belong, a place where they feel like they fit in no matter what happens.
Thank you for being that place for me.