Hi everyone and welcome to this week's Friday Night Fab Five where I list 5 things I like, adore, drool over or maybe just tolerate for the week. :D
This week I thought I'd get some help from some of my favorite people and find out what one of their favorites is this week. :) So let's get me out of the way first and get going with the good stuff...
1. And My Favorite This Week Is...This Picture of Toot
I don't know if it's because I'm ready for warmer weather or what but I ran across this picture of Toot and just fell in love with it all over again.
2. And Chris' Favorite This Week Is...
When I asked my husband if he had any favorites this week, his response was the following:
"Huh? My favorite what? Like you want to know what I want for lunch? Oh...no I don't like anything in particular this week, just pick something."
Therefore, I'm going to say that Chris' favorite this week is.....ME!!!!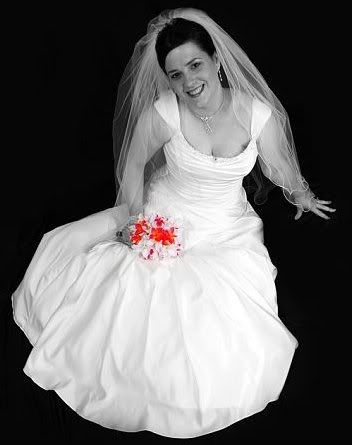 Awwwwww, isn't my husband the cutest for letting me pick for him? And to pick myself, that is so sweet...of him. So yeah, this is me in a bridal portrait circa 2007, but just trust me, I still look EXACTLY like this today! Exactly...like...this...
3. And Toot's Favorite This Week Is...Her Big Girl Bed
I was hoping to wait to put Toot in a "big girl bed" but after she went AWOL 3 or 4 times in the past week, I decided that her being in a toddler bed was better than her possibly breaking every bone in her body climbing out of her bed in the dark. And she loves it.
4. And My Mom's Favorite This Week Is...Baking
My mom loves to bake and she loves to experiment which works...99% of the time (see previous post:
NSFW Thanksgiving
). But she made these chocolate covered peppermint shortbread the other day and they were definitely a win.
5. And Your Favorite This Week Is...???
I love hearing what you out there adore so tell me,
what is your one favorite thing from this week?
And there you have it, another Friday Night Fab Five for the ages! (Or maybe something less dramatic.)
Reminder:
I'm opening up my Friday Night Fab Five to bloggers that would like to post their Fab Five here at Just Add Glitter and Stir so if you're interested in guest posting a Fab Five one week, e-mail me at justaddglitter at gmail dot com and I will give you the details. :)
I've got a super guest blogger lined up for Monday so make sure to come back! :D
Have a great weekend everyone!