Hi everyone!
You might know by now that when it comes to digital scrapbooking, I am h-o-p-e-l-e-s-s. lol That's why I'm so excited about today's Glittery Guest, Jackie from
Jacabean Designs
. She is an AWESOME digital scrapbooker and she even designs and sells
her own digi scrap kits
! Here's one of my favorites kits from her shop:
Today she's going to talk a little bit about the benefits of digi scrapping. Take it away Jackie!
********************************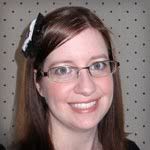 Digital Scrapbooking is just that... using computer software to create your scrapbook pages digitally. I've scrapped with paper since high school and have a HUGE stash of papers and such.
But why digital scrapbooking? Here are the top 5 reasons that I love digital scrapbooking...
1. I Can Make Multiple Copies
This is why I initially made the switch. A few years ago, I decided I wanted to make a heritage scrapbook. So many family members were interested that I figured if I made it digital, anyone who wants a copy can have one. I'm spending the time to do it, so I might as well get more use out of it, right?
2. The Undo Button!
So you've got this vision, and you're trying that new paper cutter...and it all goes wrong. Grrr...I just ruined that picture. Or how about, I'm writing a paragraph about that special moment, get to the last sentence, and misspell a word. Argh! I hate that! I imagine I'm not the only one...at least I hope :) Anyway, not only can you undo and try again on the computer but many programs also have spell check!
3. My Photos Are Digital
All of my pictures from the past 5 years at least are digital. So if I want some to scrap, I've first got to print them. Unless you're super organized and think ahead (I usually am not), you can't sit down and scrap if you find yourself with a little free time. BUT if I'm scrapping digitally, I pick out my photos and am ready to go.
4. An Endless Supply of My Favorite Things
I'm one of those wackos who doesn't want to use the last piece of my favorite paper because then, it's all gone. I know, it's a waste not to use it but I'm weird that way. With digital, there is an endless supply! Want to put 20 of that one flower on your page? Go for it! Heck, you can put 100 if you want, and it didn't cost you any extra.
5. No Mess!
In my new house, I will have my very own craft room. Yay! However, up until now I've had a bin full of stuff. Okay, well truthfully, many bins. And when I scrap? The living room floor looks like the JoAnn's craft department threw up. It would drive my husband nuts! With digital scrapping, it's just my and my trusty computer...a Mac of course, but yours doesn't have to be :)
Thanks for guest posting Jackie! Check out her blog,
Jacabean Designs
for more kits and digital scrappin' goodness!
Have a great day everyone! :)