Hi everyone!
Welcome to another Friday Night Fab Five where I list 5 things I'm loving this week but before we get to that, we've got a winner to announce! The winner of Emma Wallace's new CD, Love Songs and Lullabies is...
*drum roll*
Sarah Gomes
! Congrats Sarah! Please e-mail your address to me at: justaddglitter at gmail dot com. :D
Now onto the Fab Five!
1. InstagramInstagram
is a free app for your iPhone that allows you to take pics and make them look all fun and vintage-y. See my picture up in the left hand corner of the 'ol blog? That was taken with Instagram. :)
2. Toot at The Wiggles Show
I'll do a more in depth post about our trip to see The Wiggles next week but I have to say that we had so much fun! This video is Toot singing along with "The Monkey Dance".
3. Sleep
Sleep? What's that? I am so tired y'all...
4. The Nook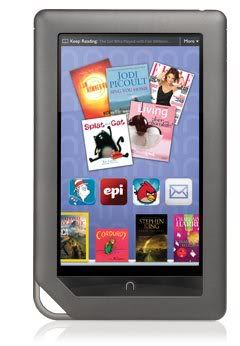 We got the Nook Color as a gift and it is pretty darn awesome. I got my Angry Birds, my books, I'm good!
5. Castle
There's a lot of reasons to love ABC's show, "Castle" but this is one of the best reasons: Firefly reference!
And that's it for this week's Fab Five!
What are you loving this week?