Hi everyone!
Real quick, I'm guest blogging...well, I answered some awesome questions anyway over at
mommaruthsays
so check it out! :D
My husband works on the other side of town, it's a bit of a drive to get him over there every day. Luckily the Michael's, AC Moore and Hobby Lobby surrounding his workplace more than makes up for the gas and mileage spent getting over there. Sometimes when he's off and one of these crafty stores is having some sort of one day sale or awesome coupon I'll ask him, "Hey Honey, don't you need to go to work for some reason?"
This was the case yesterday as AC Moore was premiering some new yarns and decided to celebrate with some make and takes (Toot made a yarn ghost), some demonstrations (both knitting so that counted me out) and....two giveaways: a gift basket of the new yarns and
$100 YARN gift certificate
!!!!!!!!!!!!!!!!!!!!!!!!!!!!11111 (<---I added some 1's to the exclamation points to show you how excited I was about this giveaway)
Anyhoo, the husband was off (of work, not his rocker although I have my suspicions) and I thoughtfully dragged my mom and Toot all the way across town to enter these giveaways. I had decided that the $100 yarn certificate was going to be mine. I went into the store and filled out about 20 tickets (I could only get my mom to fill out 5...whatever, Mom!) and because you had to be present to win, tried to find something to do as we wandered around the store for 2 hours. (!)
I scoped out the yarn to think about what I would get with my winnings, tried to keep Toot from unrolling all of the skeins and bought my mom Starbucks to try and bribe her to fill out more tickets. After all, I NEED this yarn! Well, need may kind of strong but I just need it okay? I can stop any time I want. But there was no way I was walking out of that store without $100 worth of yarn and if I needed to knock down some old lady that won, then so be it. So we waited with bated breath (and sore feet, we were there forever!) for them to announce the winner...
And then.... I WON THE $100 YARN GIFT CERTIFICATE! Cue Queen!
And here's what $100 worth of yarn looks like: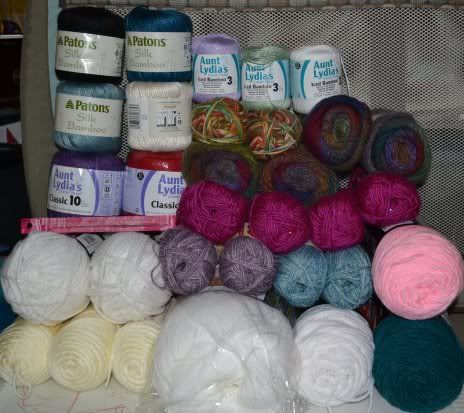 Best shopping trip ever.