Hi everyone!
Welcome to another Friday Night Fab Five where I list 5 things I like, adore or think are cool for the week. Another random collection for this week, is there any other kind? Here we go!
1. Smash Book
I just recently discovered
Smash Books
although they've been out since last Spring. And I love them. Hardcore. See, when I was younger I used to cut up magazines: pictures, quotes, words, ads I liked and make collages from them. Smash Book brings me back to that feeling and I just love it. They're perfect for people that aren't sure they're "crafty" but want to have a little notebook to fill with ideas and pictures. They're also good for people that trick them out with all sorts of creative whatevers but I really love them for their simplicity. I also LOVE LOVE LOVE the glue stick/pen combo the books come with (also available separately in different colors), genius!
2. Creepy Ad Guy Returns
Okay, remember
this Friday Night Fab Five
where I found that creepy guy's picture along with an ad for Moms to go back to school? (Which just makes no sense on so many different levels.) Well, he's back and wants to give you a school grant!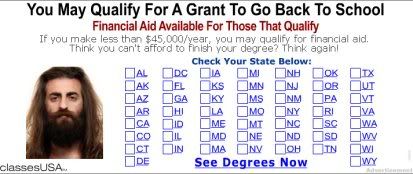 Go back to school or I'll kill you.
Seriously, who is this, where did they get this picture and why do they think it'll encourage me to go back to school?! Unless he'll kill me if I don't, is that it?
3. Crochet on TV!
I've talked about
spotting crocheted items on TV before
, no matter how much I'm into a show or movie, if something crochet pops up, I perk up like a dog that's just heard a car pull in the driveway and immediately reach for my camera. I love seeing crocheted stuff on TV but imagine my joy when I saw characters
actually crocheting
on this week's episode of "New Girl":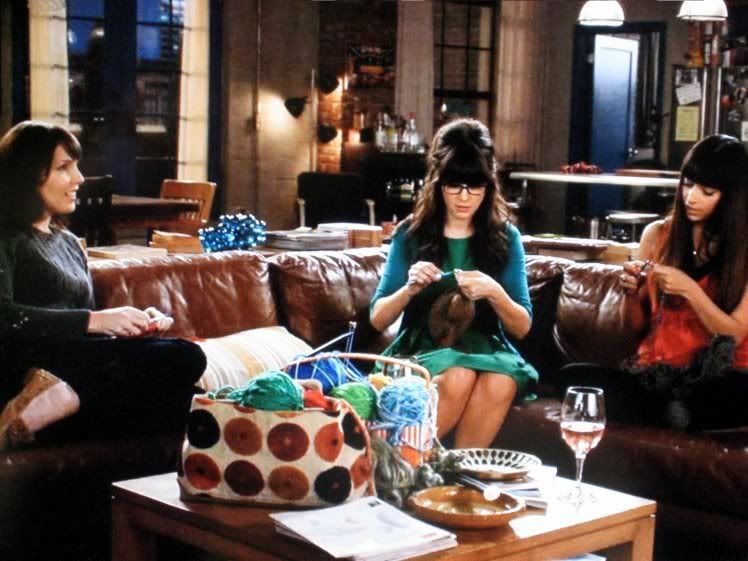 Crochet Time on New Girl
*happy dance* "Crochet Time" they called it and I love love love it!!!!!
4. Thrift Store Finds
I found this darling upon visiting a new thrift store. Isn't she darling?! She's got a new home in my craft room. :D
5. Fujifilm INSTAX Instant Photo Camera
Okay, so I don't have this yet but I reallyyyyyy want one! Wouldn't this be perfect to take pictures for my Smash Book? Someone go tell my husband!
And there you have it, another Friday Night Fab Five for the ages!
What are your favorites this week?