Hi everyone!
Toot is three years old going on thirty and with great power comes great responsibility. Wait, that's Spiderman. Scratch that. Anyhoo, Toot says or does things and I'm at a loss to know where the heck she got them from. Her father. I'm going to say her father.
So here's a slice of my life with Toot:
-Is it ever a good thing when your 3 year old runs out of her bedroom, where she's suppose to be taking a nap, and says, "Everything under control!"
-Speaking of naps, I walked into her room one day, where she was supposedly napping and she was sitting calmly on her bed reading a book. With no pants on.
Me: Where are your pants???
Toot: Mommy, I change my Pull-Up!
Me: That's great honey...Wait, what's that smell?
Toot: Mommy, I poop on carpet.
I'd like to note on the following picture that I had NOTHING to do with the bucket: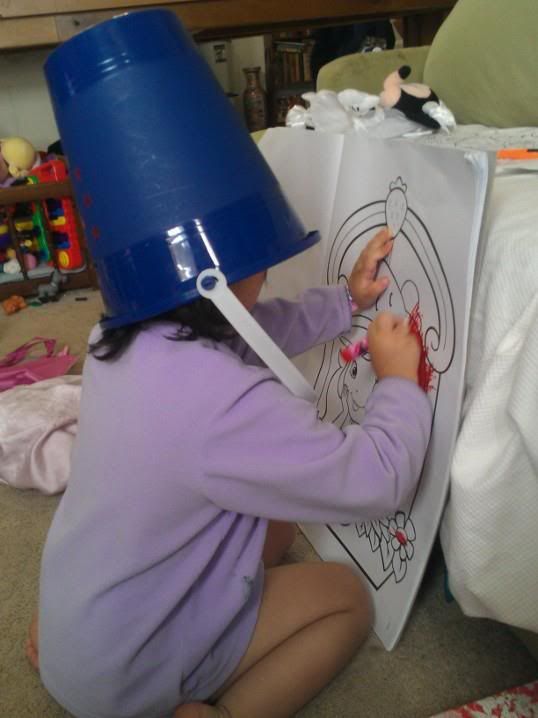 A sweet conversation between mother and daughter:
Toot: Mommy, I LOVE YOU!
Me: Aw, honey! Thank you for saying that, it makes Mommy very happy!
Toot: Mommy?
Me: Yes, my darling?
Toot: I got poop.
And for the finale: Toot and I were getting the oil changed in the car and were in the waiting area. Anytime we find ourselves in a room with strangers, forced to be together while we all wait on something, Toot takes it as an opportunity to entertain the inmates with a dance.