Hi everyone!
Welcome to an all new Friday Night Fab Five where I list 5 things I'm digging this week:
1. Mister Rogers Remix
I grew up watching Mister Rogers and love this remix by PBS. SIDENOTE: Here's a money making idea--->Create a relaxation CD that's just Mister Rogers and Bob Ross talking. Come on, who could feel stressed after listening to that?! Speaking of Bob Ross..
2. Bob Ross Remix!
PBS did one for Bob Ross too. Snap!
3. Pomegranite80 on Etsy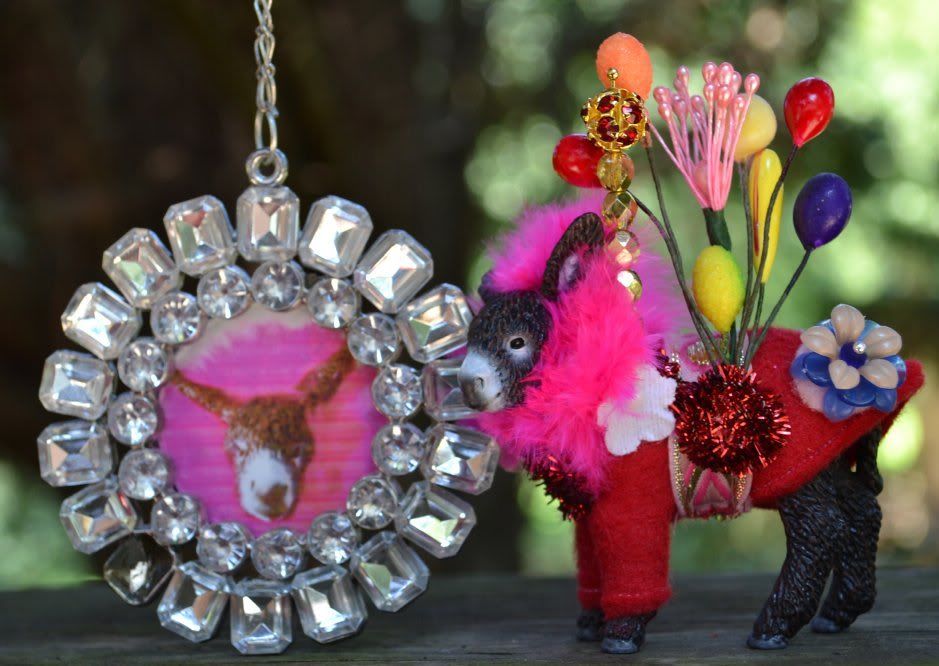 DONKEY!!!
I love finding awesome online handmade shops, run by awesome people who create awesome things. I originally found
the Etsy shop: pomegranite80
thanks to
Regretsy
. Ady creates donkey related what have yous with the proceeds going to her donkey rescue. So let's see...cool shop? Check. Good cause? Check. Awesome dressed up donkeys? Done and DONE. I've got three in my collection with one more on the way, Ady's donkeys are addicting! lol
4. 100 vs 1
This marks the THIRD time that I've shown this video here at Just Add Glitter and Stir but I don't care, it's just that funny. (And I could use a laugh or two today!) Basically, 100 people randomly show up to freak out the 1. It's awesome.
And last but not least:
5. Zippy

Wow, I feel like I haven't posted many pictures of Zippy at all. Bad Mommy, bad!
And there you have it, another Friday Night Fab Five for the ages!
What are your favorites this week?