Well helloooooooooooo everyone!
No Friday Night Fab Five this week because today is my SITS day, w00t!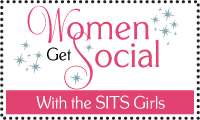 So for those of you that regularly put up with my crap around here but aren't sure who
The SITS Girls
are:
"We are a group of 40,000 women bloggers dedicated to supporting one another by leaving comments & learning about blogging. We'd love to have you join us!"
I've been stalking SITS for a while now and they have grown and grown into a blogging-social media-community MACHINE. And they are awesome (and not only because they chose my blog to feature today).
For those of you that are new to Just Add Glitter and Stir, welcome!
So this is me:
Wait, that's not right...THIS is me:
I have two girls:

I also like gluing stuff onto other stuff:
I like to blog about my
life
, my adventures in
crochet
,
mixed media
and I list 5 things I'm obsessed with in my (mostly) weekly
Friday Night Fab Five
.
Here are a few of my favorite posts, I do hope you'll stick around and revel in my...uh...revelry. Huzzah!
How to Set Your Microwave on Fire
FedEx Thinks I'm Fat
and the follow up:
FedEx is Afraid of Trees
No, You Prove YOU'RE Not A Robot, Captcha
NSFW Thanksgiving
Thanks for stopping by!